10/22: New this week at Smoke Signals Online…
This week at Smoke Signals Online, the net's premier smoking fetish site, we've added 987 new photos and 15 minutes of new video.
In glam shoots in the photo galleries, Charli starts out with a VS 120 in a very long red holder, but realizes it's awfully difficult to manage and switches to a much shorter one. She shows snap inhales and nice mouth exhales as she sips wine, chats with the cameraman and texts. Then we have casual, glamour and lingerie shoots with Somer as she shows off her great natural open-mouth and snap inhales, along with mouth and nose exhales, and mesmerizing smile as she smokes.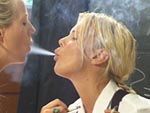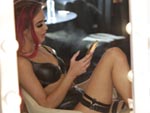 In the video gallery, Lexi A. can't keep her cigarettes out of her mouth and her fingers out of her pussy.
In another smoky masturbation scene smoking two all-whites, this time in a hot skimpy outfit and stockings, she takes deep drags and a mix of slow and thick exhales as she works herself to another orgasm.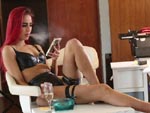 You can see a sample clip here.
Come join us!